2018-19 Teacher Scholar of the Year: Charlie Hailey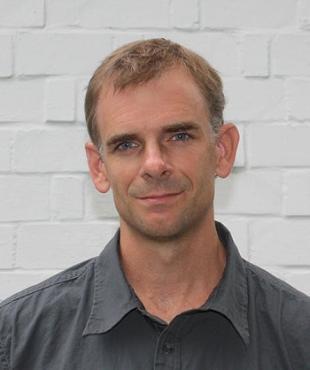 Charlie Hailey is a professor in the School of Architecture. His research focuses on how built environments are made, investigating material culture and cultural landscapes to discover links between human agency, settlement patterns, and ecology. As an architect, scholar and educator, he seeks to engage the humanities in research, teaching, and practice, and to cross conceptual, disciplinary, and methodological boundaries.
Hailey is committed to helping students make connections between their design studies and the historical, philosophical, and humanistic contexts of that work—more than just appreciation, but active engagement that prepares them for academic and professional careers as it also enriches a life of inquiry. In the tradition of John Dewey's learning by doing, he has sought to extend the architecture design studio's experiential learning context out into the community where students might make lasting contributions, while at the same time learning the implications of their design proposals. In the design/build studios he teaches, students actually construct what they have designed, and twelve public interest projects have been completed in Cedar Key, Gainesville, and White Springs. Hailey has explored this process and its pedagogy in the book titled Design/Build with Jersey Devil: A Handbook for Education and Practice (Princeton Architectural Press, 2016).
His first book Campsite: Architectures of Duration and Place (LSU Press, 2008) explores campsites as ways of making new places and homes. This research investigated the cultural significance and inherently paradoxical nature of camping in American society. Hailey continued this line of research with the study of camps as contemporary spaces of both freedom and emergency. Camps: A Guide to 21st-century Space (MIT Press, 2009) develops a global perspective to understand the broader implications of camps conditioned by autonomy (such as summer camp), necessity (as in refugee camps), and control (including military camps). In 2010, Hailey was selected as a Fulbright Scholar in the Senior Specialist program, which extended his research to the eastern European context. A year later, he was invited as a Fulbright Scholar by the State University of Tetovë, Macedonia, to teach an urban design workshop and deliver a series of lectures on the relation between camps and urbanism.
Subsequent research has continued with this contemporary and interdisciplinary concentration, investigating places that do not fit into particular frameworks and are sometimes hidden but are highly significant for understanding senses of place in built and natural environments. Hailey's book Spoil Island: Reading the Makeshift Archipelago (Rowman and Littlefield, 2013) focuses on the meaning and function of human-made islands to explore newly emergent places that require innovative approaches to design, environment, climate, and conservation. In 2015, Hailey began a collaboration with Irish photographer Donovan Wylie, and a year later they received a Graham Foundation research grant to explore the informal settlement Slab City in southern California's Colorado Desert. Harbinger and bellwether, Slab City is indicative of 21st-century displaced settlements, and this book reveals how such places are made in the midst of struggle and survival. In Fall 2018, MIT Press published Slab City: Dispatches from the Last Free Place, with Hailey's text accompanied by Wylie's photographs. As a 2018 Guggenheim Fellow, he has continued to delve deeply into such vital places as camps and porches—liminal yet pivotal to knowledge, ephemeral yet fundamental to human experience—in order to understand how climate, building, and community overlap in meaningful ways and how architecture and the humanities intertwine.