2008-2009 Teacher / Scholar of the Year: Paul Holloway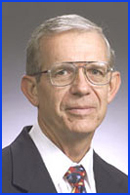 Paul Holloway is a professor of Materials Science and Engineering here at UF. He is also the director of MICROFABRITECH, an interdisciplinary materials research program. Dr. Holloway received his Ph.D. in 1972 from the Rensselaer Polytechnic Institute and has worked at General Electric and at Sandia National Laboratories in Albuquerque.
Dr. Holloway has received numerous teaching and research awards including being selected for the Alpha Sigma Mu Award of Excellence in 1987, College Teacher of the Year at UF in 1988, the E.W. Muller Award for Excellence in Surface Science, and many more. He holds the Ellis D. Verink Professorship at the University, and was named a Distinguished Professor in 2000.
Dr. Holloway has published more than 275 articles and authored four books in his area of research. He has given over 60 invited talks and keynote addresses at international meeting including National Symposia of the American Vacuum Society, the Mexican Vacuum Society, the American Chemical Society, and several others. He is also a regular short course instructor in vacuum science and surface analysis for the American Vacuum Society.
Because of his work in various areas of research, Dr. Holloway is internationally recognized. He is listed in several references including Who's Who in America, Who's Who in Science and Technology, Who's Who in the Southeast, and the International Directory of Distinguished Leadership.