2011-2012 Teacher / Scholar of the Year: Larry A. DiMatteo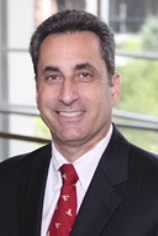 Dr. DiMatteo, the Huber Hurst Professor of Contract Law & Legal Studies at the University of Florida, was named the 2011-12 Teacher-Scholar of the Year for the University of Florida. Originating in 1960, this is the University of Florida's most prestigious and oldest faculty award. It offers an honorarium of $5,000 in addition to other appropriate recognition. In selecting the awardee, the Award Committee designates a faculty member who demonstrates distinguished achievement in both teaching and scholarly activity and visibility within and beyond the university. He was also awarded a Fulbright Professorship to visit at Sofia University and the Academy of Science in Sofia, Bulgaria for the summer 2012.
Professor DiMatteo has two books in press at Cambridge University Press entitled Global Challenge of International Sales Law, and Commercial Contract Law: A Transatlantic Perspective. He has been invited to speak on May 11, 2012 at the Max-Planck Institute in Hamburg, Germany and is a Special Issue Editor of the Journal of International Trade Law & Policy. This issue will be published in late 2012 and is on the subject: "The CISG and the New European Sales Law." Previously, Professor DiMatteo was a Leverhulme Trust Visiting Professor at Leicester University in the United Kingdom, a visiting scholar at the University of Münster in Germany and at the School of Excellence at the University of Catania, Italy.
Professor DiMatteo's teaching excellence has been recognized by a series of awards. In 2011, he was Warrington College's Nominee for University International Educator Award. In 2010, he received the first ever Graduate Teacher of the Year Award at the Warrington College of Business Administration, as well as a 2010 Undergraduate Teacher of the Year Award for the Department of Management. In 2010, he won an International Case Study Award co-sponsored by Indiana University's Center for Business Education & Research and the Academy of Legal Studies in Business. The case study was entitled "Choosing Values: Public-Private Relationships in a Global Economy." The case study was supported by a grant from the Graham Center for Public Policy and is used by Professor DiMatteo in the classroom. In 2007, he won the Ralph C. Hoeber award for best pedagogical article in the area of legal studies education. In 2005, Professor DiMatteo won the International Ray August Award for Master Teacher in International Business Law.
At the University of Florida, Dr. DiMatteo has served as chair of the Department of Management. He also has been granted affiliated professorships at the Levin College of Law and the Center for European Studies.
Dr. DiMatteo received two bachelor's degrees from the University at Buffalo, where he was inducted into Phi Beta Kappa, he earned his juris doctorate from Cornell University, masters of law from Harvard University, and his doctor of philosophy from Monash University (Australia).