2021-2022 Teacher Scholar of the Year: Pamela Solits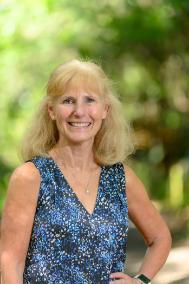 Pamela Soltis is a Distinguished Professor and Curator in the Florida Museum of Natural History at the University of Florida and is Director of the University of Florida Biodiversity Institute. Her research focuses on patterns and processes of plant evolution, spanning genome to landscape scales, with applications for biodiversity assessment and conservation. She also serves as Director of Research for iDigBio, the NSF-sponsored National Coordinating Center for Biodiversity Collections. Dr. Soltis received her B.A. in Biology from Central College in Pella, Iowa, and her Ph.D. from the University of Kansas.
Her main research interests are angiosperm phylogeny, polyploidy, and the use of digitized natural history collections in biodiversity research. Working with colleagues, she has made fundamental contributions to our understanding of angiosperm phylogeny and plant diversity. They have used this phylogenetic underpinning to address patterns of genome evolution and ancient polyploidy, including ancient whole-genome duplications that mark key clades of angiosperms. Her work on digitized natural history collections has addressed novel uses of herbarium specimens in studies of plant diversity, including niche evolution and phenological analysis using machine learning and images of herbarium specimens. Working with a team of colleagues, she has helped develop outreach products that combine science and art, focusing on understanding, interpreting, and using the Tree of Life.
Dr. Soltis has served as President of the Botanical Society of America, the Society of Systematic Biologists, the American Society of Plant Taxonomists, and the International Society for Phylogenetic Nomenclature. In these roles, she has emphasized scientific literacy, diversity, and opportunities for students and early-career scientists. As a member of the Board of Directors for the American Institute of Biological Sciences, she focuses on communicating science to the public and promoting diversity in the scientific workforce. She is a member of the National Academy of Sciences and a fellow of the American Academy of Arts and Sciences. Awards include the Dahlgren Prize in Botany, the Asa Gray Award, the Stebbins Medal, the Botanical Society of America's Merit Award, and the Darwin-Wallace Medal, all jointly with husband and collaborator Douglas Soltis, as well as the Southeastern University Research Association Distinguished Scientist Award, University of Florida Teacher/Scholar of the Year (2021-22), and teaching and mentoring awards from Washington State University and the University of Florida.